Modern Fabric Art Postcards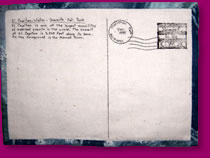 $40 each
These measure around 7" by 5" inches. The back is set up like a post card and a message can be written. Not to be sent through the mail.
Most people put them on an easel for display. A great way to remember a special place you have been.
Various scenes in and around Yosemite, all done in soft edge appliqué.
I will do a postcard of any wonderful place you have been and would like to remember!
These postcards are samples of what can be done. If you send me a paper postcard I can recreate it in fabric!
Click here to email me and inquire about getting your own custom postcard piece
---

Yosemite Postcards

---

A Van Gogh Moment

A very special piece.